Unfortunatly due to some problems I am having implementing slopes and lighting in the FPS engine I mentioned last post, I have decided to design a new engine from scratch taking into consideration these features. While I will now struggle to have anything to submit to the current NEO Flash comp I am still happy with the new design of the engine, I should start coding any day now.
I will make another post shortly talking about the technical problems I am facing with my current FPS engine and how I plan to rectify the problems.
Now the good news :)
A couple of years ago I gave up on a small project that was to be my first for the PSP, with the FPS engine coding currently stalled I decided to go back and take a look at the problems which caused me to abandon it. While it still lacks polish and the menu system is clumbsy and un-appealing, I think it could make quite a fun mini-game. Heres some teaser shots, I'll most probably release this in the NEO flash comp in it's unpolished state, the code is very much a mess.
The moon level 4 on 4:
Grass level 1 on 1:
Ice level (personal favorite) 3 v 3 with custom colors, speeds and sizes: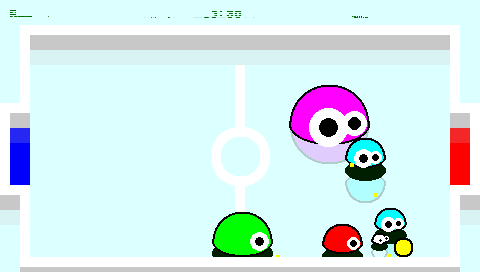 Grass Level 4 player 1 vs 1 vs 1 vs 1: